Hey, you! Try something new.
Your mission is simple: eat up for your Island, and enjoy the wonderful produce that's on our doorstep. Natural Enterprise, in collaboration with Wight Marque, are challenging you to switch up your shopping every week and 'try something new'. If you can eat it or drink it, and it comes from the Isle of Wight, then give it a go!
Island food is a favourite with chefs and we think your family will love it too. Swap one of your usual brands for an Island brand and we're sure you'll taste the difference. There's so much to choose from, as we're lucky enough to have easy access to the freshest food and gourmet delights from the Island's artisan makers, bakers and brewers.
Our local producers are supporting us throughout the coronavirus crisis, by delivering to our door and going beyond the call of duty to source the essentials that we need, and the treats that we crave. They have stepped up to the plate for us. So now it's time to step up to the plate for them. Let's buy local!
Hey, you! Try something new.
Your mission is simple: eat up for your Island, and enjoy the wonderful produce that's on our doorstep. Natural Enterprise, in collaboration with Wight Marque, are challenging you to switch up your shopping every week and 'try something new'. If you can eat it or drink it, and it comes from the Isle of Wight, then give it a go!
Island food is a favourite with chefs and we think your family will love it too. Swap one of your usual brands for an Island brand and we're sure you'll taste the difference. There's so much to choose from, as we're lucky enough to have easy access to the freshest food and gourmet delights from the Island's artisan makers, bakers and brewers.
Our local producers are supporting us throughout the coronavirus crisis, by delivering to our door and going beyond the call of duty to source the essentials that we need, and the treats that we crave. They have stepped up to the plate for us. So now it's time to step up to the plate for them. Let's buy local!
Take a fresh look at Isle of Wight produce
Island freshness
There's freshness… and there's Island freshness. Our food is sent all over the country, to top restaurants and fancy stores – but we're the lucky ones who get the first pickings. That means that the milk could be in the cow in the morning – and in your tea in the afternoon. The fruit and veg is so fresh that it practically leaps out of the field and into the farmshops. That makes it taste amazing and last longer. Try it… you'll see!
Island quality
Many of the producers have won Great Taste awards – and it takes a lot of work to make food this good. That's why the meat is hung for longer than usual. The coffee is roasted in small batches. The salad dressings use foraged ingredients. The cheese is made with milk that's fresh from the cow. This isn't mass produced food. It's mmmm produced food. It takes time, effort and passion. But it tastes better that way!
Island service
Islanders want to give you a lovely experience when you buy their food. They've been going 'the extra mile' during the coronavirus crisis, and many producers will now deliver to your door, or offer click and collect. They enjoy sharing their passion for produce, so when you get your groceries, you can also get friendly advice, recipes, and maybe a chat about the weather. It's not so easy to get that from a self-service checkout!
Taste and tell
Pop over to Wight Marque's Facebook page and tell us what local goodies you're eating! We're also offering you recipes, discounts and samples to try.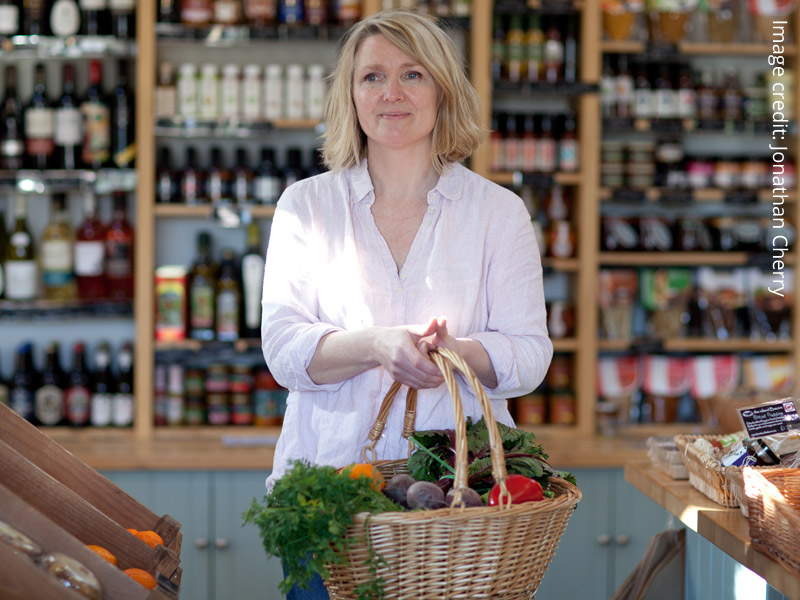 "We've noticed that during the coronavirus crisis, people are buying more online and trying different flavours as they're getting more experimental in their cooking.
"One of the predominant ingredients in our oils, dressings and marinades is rapeseed oil from Merstone, known as Oil of Wight, which has a distinct golden colour and slightly nutty flavour. It's cold-pressed, and made without chemicals or heat, so you can taste the lovely fresh rapeseeds. It really complements other local flavours. For example, try adding a little Chilli Cherry Drizzle over local crab fishcakes on a bed of rocket and tomato salad.
"Our Spiced Fig dressing, which has a punchy kick to it, goes really well with the delicious Halloumi from Briddlesford, Island cherry tomatoes, and Isle of Wight lamb. We use it pretty much all the time on the BBQ! Our Salad Dressing goes really well with Isle of Wight asparagus, potatoes and poached eggs – the rapeseed oil ties everything together.
"We like to play around with seasonal ingredients for our oils and dressings, like blackberries when they're in abundance. Or at this time of year, we might go out collecting elderflowers, and wild garlic. We're always trying new recipes and make everything ourselves.
"The brilliant thing about local produce is that you can see it growing, so you can be sure of its provenance. And you can taste the freshness – the taste is remarkable!
"Wild Island is an Island business and it's important for us to use local suppliers, including graphic designers, printers and dispatchers. We employ people who are also part of the community, for example, our production manager is a volunteer for the RNLI. So many people benefit when you shop locally – and the quality's there for you too!"
TRY SOMETHING NEW:
"Try eating asparagus just after it's been picked – the taste is incomparable, it's so delicious."
"Ours is a family business. It started out when my dad bought a catering trailer, put in an espresso machine, got a pitch on the industrial estate and started selling coffee along side bacon rolls – we've come a long way since then and now have a roastery producing around 35 tonnes of coffee a year and a flagship retail café in Newport, Caffé Isola, which is also home to our smaller profiling roastery and coffee training centre.
"During the coronavirus crisis, our business has been operating at around 5%, and all our staff have been furloughed, apart from myself and my brother. It's a strange situation but effectively our business is paused with just retail web orders for free Island doorstep delivery (post for the mainland), keeping my brother and I going.
"I'd urge Islanders to take this opportunity to shop locally, as many producers are offering free delivery right now, to keep the money going around the Island, you will really be making a difference to the livelihoods of local businesses.  Maybe try a new Island product once a week? It might cost a little bit more but you'll be getting much better quality. For example if you open a supermarket teabag, you might see dust. If you open one of our Wight Label tea bags, you'll see tea leaves, and that makes all the difference to the depth of the flavour.
"Our Island Roasted coffee isn't the same either. The big coffee chains and supermarkets need such large volumes of coffee and are always driven by price so have to use lower grade coffees to get some level of flavour consistency but at the cost of quality.  We can buy small batches of speciality coffee, and support smaller farms with ethical work practices and celebrate the amazing work they do. That means that we can focus on the grade and the flavour, and our customers are getting an artisan exclusive product that can't be found elsewhere.  A fine example of this is Leidy Chinchilla from Honduras who produces just 15 sacks a year of her Finca Los Mangos speciality coffee exclusively for us.
"Smaller businesses can also work more quickly, which benefits the customer. A big brand might roast their coffee and then have it with customers within 3 to 6 months. We can get it out there the next day and that makes a huge difference to the coffees quality in the cup. Freshly roasted coffee is more vibrant, with a nice silky crema for espresso, and a rich flavour for filter coffee.
"Particularly now, it's important for us all to support the Island, so try something new! You won't just be buying a lovely cup of coffee or a packet of tea – you'll be helping local businesses to stay afloat."
TRY SOMETHING NEW:
"Try the milk from Briddlesford Dairy – it's fresh you can get it on the day it's been milked. Their Guernsey herd produces amazing creamy milk that's perfect for frothing micro foam and latte art.
Try Fruit Bowl Jams – they come in a wide range of flavour and use traditional fruits.  At the start of the lockdown we added their jams to the Island Roasted website and they've been selling well.
You could also try anything made by: Wild Island Dressings, Tipsy Wight, Island Ales, Goddards Brewery, Isle of Wight Distillery, The Tomato Stall, Wight Salt, Isle of Wight Honey, Mr Cs, Borneo Pantry, Grace's Bakery, The Island Bakers and The Isle of Wight Biscuit Company. We use their products in our menus and they've been popular on our website too."
"I've always said that my animals need fresh air and sea views – and the farm is in an area of outstanding natural beauty, which I'm sure helps the meat to taste good!
"Cheverton, where we're based, is a very public farm – some farmers' attitude is 'get off my land' but that's not us at all. There is open access through our fields and we like to come out, meet people, and talk about our animals, because we really care about their welfare and want to tell everyone what we're doing.
"We used to supply restaurants and pubs, but that stopped overnight when coronavirus hit. It took us two months to set up so that we could reach the public directly – we had planned to do this anyway, but had given ourselves a year! Now it's pretty much all we're doing. Although we can't meet our customers right now, we like to keep connected and show people what the farm is doing through our website and Facebook.
"Our farm is all about the community and many of our customers have a personal connection with us. When they buy meat from us, they might think – 'I know the farm, I walk my dog near it', or maybe they know someone who works here. When you're buying your leg of lamb, you're generating jobs for your community. Since putting in our new meat plant, we have created seven new jobs and been able to keep the farm going. Plus you get the environmental benefits of low food miles.
"Our Island meat is good quality and good value. Our beef is hung for 40 days, whereas the standard is 14 or 21 days. We've also got a Himalayan salt chamber, as well as a bespoke computerised chiller. The time it takes makes it more expensive to produce but most importantly enhances the flavour. So although you could find cheaper elsewhere, it won't taste as good!"
TRY SOMETHING NEW:
"Buy the best meat you can afford, as close to the source as possible!"
"Our milk could be in the cow in the morning – and in your tea in the afternoon! We process it on our farm, so it can be in the shops just hours after milking. The freshness comes through in the depth of flavour of our cheeses too.
"Coronavirus has had a dramatic effect on our business but we are lucky to have been able to mitigate the pressure and keep most of our 30 staff in work. We had to shut the café but our head chef now makes all kinds of products and ready meals for our farm shop, including custard, milkshakes, chillis, cottage pies and pizzas. We used to supply the catering trade with lots of fresh cream, but when that stopped overnight, our chefs started work in our dairy, using the cream to make more butter instead. Our café manager is now multi-tasking. She runs our home delivery service and organises PR across the business. We'll carry on like this as long as we need to, as we've been getting good feedback, and we don't know when the crisis will end.
"Local businesses are there for you when you need them and we've demonstrated this during the crisis. If a shop says they're running out of milk, then we'll be straight over with it, if we can. We have developed strong relationships with our customers in this way, but also because they know they can rely on us for quality.
"When you shop locally, you're supporting your rural economy and putting money back into the Isle of Wight. You're protecting Isle of Wight jobs, and investing in the beautiful countryside. Without farming, the fields would revert to scrubland and you wouldn't see livestock. If we don't support our farmers, they will go out of business and we'll need to import more food.
"A crisis like this one has shown us what can happen if our supply and distribution networks come under pressure, but local suppliers can always provide what we need when we need it. So let's buy local – you're supporting the Isle of Wight, you can feel good about yourself, and it tastes so good too!"
TRY SOMETHING NEW:
"Try Briddlesford Mac and Cheese! It's in our new ready meal range and uses all four of our cheeses: Cheddar, Gouda, Halloumi and Feta.
Try The Fruit Bowl homemade jam range – it's sold in the shop and used in Bluebell's with our cream teas. It's made in Newchurch, where nearly all of their fruit is grown."
"I get some of my fruit and veg from Farmhouse Fayre in Newport, and Isle of Wight tomatoes from another supplier. Isle of Wight asparagus is one of my favourites – I like it with a little bit of homemade Hollandaise sauce, which is a simple but classic way to eat it.
"The meat from the Isle of Wight Meat Co. is excellent and if you start with a really good product then it makes my job a lot easier! Their lamb shanks and racks of lamb can't be beaten. They also do lovely salt aged steaks which have a really great  flavour and firm texture – I season them with sea salt from Wight Salt in Ventnor, and they taste amazing. All their meat is from locally reared animals, and they're butchered skillfully on site at their farm in Shorwell.
"The venison from the Isle of Wight Deer Farm is really good too – and it's only down the road, so there's a very low carbon footprint.
"I also like using Ventnor Haven Fishery – they supply all my crabmeat and whenever they catch Dover Sole, they give me a call, as it's my favourite fish. I might get a phonecall at 7pm to say they've landed 10 of them, do I want them? And then they'll deliver them in the morning. I couldn't beat that, unless I fished them myself, and it means my customers get fish straight out of the sea. Dover Sole has a distinctive flavour, and firm texture but you've really got to have it when it's very fresh.
"Shopping locally means that we're supporting each other. If I support a local farmer, then maybe I'll see him in my restaurant in a couple of weeks, so the money stays on the Island – when you spend money in a supermarket, you never see it again! Plus the customer gets really fresh and tasty produce so it works for everyone."
TRY SOMETHING NEW:
"If you're over 18, try a Gin & Tonic with Mermaid Gin made by Isle of Wight Distillery. Add ice, lemon, a bit of cucumber and juniper berries – it's never in the glass for very long!"
"All of our crops are harvested daily. We only pick our tomatoes once they reach the peak of ripeness to ensure flavour. Our aim is always to get tomatoes from glasshouse to store in under 24 hours.
"The choice and diversity of produce available locally is increasing all the time. It's a really exciting time for local produce, when Islanders buy local food, freshness is an obvious advantage but also quality. We grow some of the UK's best produce on the Island. Buying local food not only gives people great choice but supports the wider Island economy and the future growth and innovation of food production on the Isle of Wight."
TRY SOMETHING NEW:
"Favourites of mine are locally grown asparagus and gourmet mushrooms – they're both grown in the Arreton Valley."
"I'm loving the local asparagus! It's really fresh and tender and very tasty. I have it on a poached egg, with a bit of grated cheese on the top. Sometimes I'll add some Briddlesford Dairy butter. I also love Isle of Wight heritage tomatoes, which come in lots of different colours.
"During coronavirius, I've been shopping at The Farm Shop and No. 8 Cafe in Bembridge – they've been brilliant, delivering local produce, and it feels like a safe place to be as stringent measures have been introduced to keep everyone safe. It's so convenient too, I can walk there.
"Island produce tastes so fresh and it's nice to support Island businesses too, so that we can keep our economy running. I'm going to carry on shopping locally – because the local businesses were there when we needed them."
TRY SOMETHING NEW:
"Try Blue Slipper from the Isle of Wight Cheese Company. It's so creamy, smooth and tasty, without being pungent.
Also Bathology Collective in Ryde make a hand sanitiser with peppermint and tea tree essential oils. I was given some as a present and it's lovely!"
"I'm so grateful to local shops and delivery services right now. Living Larder has been great, I like all their produce, plus they include recipe cards so that you know what to do with the more unusual things like kale tops! Their recipes are so good that I've even got my husband enjoying his greens now!
"This week, I had Japanese onions in my box which are like humungous spring onions – I sliced them up very finely, added tomatoes, and drizzled them with Spiced Fig balsamic dressing made by Wild Island. I'm addicted to that dressing and the flavours were lovely together.
"Living Larder has been helping food producers who have been badly affected by coronavirus – for example they now sell potatoes from a farmer who lost all his businesses when a fast food chain shut down. It's really good to see businesses supporting each other like that.
"I also love the tomatoes from The Tomato Stall – they're world class. In fact I was sitting in a taxi in Thailand once, and when the taxi driver heard where I was from, he said 'tomatoes!' Their aubergines are good too, they're super glossy and look freshly picked rather than the shrivelled solid ones that you sometimes see in the supermarkets. During the crisis, The Tomato Stall sent boxes of tomatoes to people in need, so deserve a real pat on the back.
"Norris Family Grocer's in Niton is one of my favourite shop for local produce. I also like Brownrigg's in Godshill which is my 'go to' place for meat – I love their sausages! It was Frazer's birthday the other day, so we had their Island steaks as a treat, and they were blooming delicious. You can get small portions there, which is great, because it means that you can be experimental and support local producers while you're trying to keep costs down. So many of us have been financially affected by coronavirus – but we can still eat really good food here on the Island and enjoy the occasional treat."
TRY SOMETHING NEW:
"Have you ever tried Wight Salt? It's made naturally and sustainably from Ventnor seawater. It's like an early morning bucket of seawater thrown in your face (in a good way!)
"See what the little shops have to offer. They sell lots of unusual things and buying something small could cheer you up. I've just bought some lovely yoga cushions in Lesley's Nutshell in Ventnor and had a vase delivered by Live Like This in Cowes – it's so beautiful that it makes me happy!"
"What makes Island produce so special is the enthusiasm and the passion of the people who produce it. The food is amazing, and so many of our businesses have gone beyond the call of duty during the crisis, for example, doing deliveries, even when they weren't set up to do that before. Wight Milk has been wonderful – it's a new project and they upped production very quickly and now supply a huge percentage of the Island's milk needs."
"Our local businesses have made a huge effort for us, so now I hope that people will continue to support them. There's such a huge variety of high quality produce and you know where it comes from – for example, you know that the eggs really are free range, because you can see the chickens running around. With food that's made or grown on the Island, the food miles are so minimal – the furthest the food can travel is 26 miles or it will fall into the sea! That's beneficial for the environment and also the quality of the food, because it hasn't been refrigerated for ages while it's been carted from here to there.
"During the crisis, I've been getting a lot of local food from Brownrigg's Farm Shop in Godshill, who have been delivering all over the Island. I've been enjoying the produce from Briddlesford Lodge Farm, particularly the milk and the butter, the fantastic Isle of Wight Cheeses, tomatoes from The Tomato Stall, and the brilliant sourdough made by the Isle of Wight Bakers.
"Locally produced food isn't as cheap as mass produced food but it's a different quality and taste. And it's good for tourism too, as people like to try the local specialties wherever they're staying, and it gives us stunning scenery, such as the fields of wheat that we all like to see.
"I know what hard work it is to be a small producer, as I'm from a farming background, and I once learnt how to be a butcher. It's a passion of mine, but I never worked so hard in my life, cutting up meat in the freezing cold!"
TRY SOMETHING NEW:
"Try Isle of Wight Cheese –  there are so many different kinds, they're great tasting and you can't find them anywhere else, apart from in a few high end shops on the mainland. My personal favourites are the Isle of Wight Blue by the Isle of Wight Cheese Co. and Briddlesford Farm Dairy Cheddar."
"We haven't been shopping since 19 March – we tried getting our usual supermarket to deliver, but although we've been shopping with them for 15 years, they wouldn't come out to us. Thankfully Medina at Home would, and they've been really good, so we've ordered a lot from them, including eggs and meat. We also got a huge 16kg bag of flour, which we shared with our neighbours and swapped for wine and baking ingredients! The delivery drivers are always cheerful and a pleasure to deal with.
"Goddards Brewery has been excellent too and so pleasant – you get a really good personal service with local businesses. My husband David likes real ales and he's tried stuff he's never tried before, like Duck's Folly.
"We've also enjoyed eating Island butter, which has a lovely texture and it's what we call 'proper butter', like the sort we used to get on the farm when we were kids. We also like Island eggs as they're so fresh and the asparagus and tomatoes are the best in the world! It must be the sunshine that makes it taste so good! I like to know where my food's from – and here we can see it growing in the fields when we go out walking.
"I've always shopped locally and I always will – because if you don't support local businesses they'll disappear."
TRY SOMETHING NEW:
"J&B Fisheries in Freshwater stock local fish and do deliveries. We had lobster last night, which was delicious. Tonight, it's seabream cooked with herbs and garlic from the garden."
"Both my children are keen bakers, so when coronavirus hit, I was stuck at home with two little ones, who wanted to do baking, but I couldn't get flour or eggs anywhere. Then I discovered Easy Weigh in Newport – they put up videos on Facebook, so you could browse the shop, then if you sent them an email in the evening, you'd get what you want the next day. We've had all kinds of things – flour, mixed nuts, herbs and spices and even frozen Chinese buns! They've really kept the staples coming.
"We've baked all kinds of things with their ingredients  – our favourites are scones with Isle of Wight butter, which Jack says are the 'most awesome scones ever'. His speciality is Victoria sponge with fresh cream and homemade jam. Annie loves decorating the cakes and they both love licking the spoon after she's finished!
"Shopping locally over the past few weeks has been really good – it's not something I did enough of before! We're a busy family, and I'd got stuck in a cycle of convenience. But now I've changed my buying habits and intend to shop more locally.  You get really good quality, the produce tastes so fresh, it's reasonably priced and keeps well too.
"The small businesses really stepped up when everyone needed them. They kept us going – so now it's our turn to keep them going."
TRY SOMETHING NEW:
"Visit the Egg Shed at Hazelgrove Farm in Ashey – their eggs, carrots, leeks, asparagus and potatoes are all delicious."
"Over the past few weeks, when we haven't been able to go out, Vic's Stores in Nettlestone Green have been brilliant – they've found things for us that are difficult to get hold of and they're so cheerful when they take our orders. They suggest things like 'have you remembered the milk?', because at our age we're a bit forgetful! Then a couple of hours later, everything is delivered by their delightful young ladies. We've ordered vegetables, milk, bread, newspapers, all the staples.
"We've been buying Island produce wherever possible – and you can't fault it. I think if you can shop locally, you should do, and give local producers the chance to sell their produce. It tastes so good, like it's come off the allotments. I was brought up in the war, and my grandad had two allotments – we ate everything from the allotments and didn't eat anything else, apart from a bit of meat and butter. So I'm very pleased to eat produce that tastes homegrown, there's nothing better!
"I particularly love the Isle of Wight strawberries, and years ago, used to pick my own. You can't beat the flavour of Island strawberries. I eat them with lots of sugar and cream – when you get to my age, you don't worry so much!"
TRY SOMETHING NEW:
"I like to make cauliflower cheese with a bit of broccoli – and for a change, I tried a new type of broccoli that was almost like asparagus, with long stalks and leaves coming off the top (Tenderstem broccoli, which is a cross between broccoli and Chinese kale). It's so nice and delicate and now I prefer it to the usual broccoli!"
Look for the Wight Marque –
it's a sign that the produce is lovely and local!